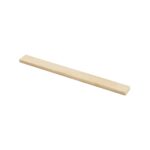 Vroma Brass Inlays Brushed Finish Solid Brass 9.5×3.2mm (1/8″x3/8″)
£18.99 – £54.99 Ex VAT
Vroma Brass Profiles
Rust Proof
These Profiles are available in various lengths – Please take care choosing the correct size
Sold as single lengths
Brushed Brass
9.5mm X 3.2mm- (1/8″x3/8″)
2.5 M Length
1.8 meter Lengths
1 Meter lengths
3.6 Meters available (please contact us for these)
SKU

Thumbnail

Stock

Size

Length

Price

Quantity

Description

Brass Brushed 9.5X3.2-1 Meter

In Stock

9.5x3.2
1 Meter

£

18.99 Ex VAT

9.5X3.2

Brass Brushed 9.5X3.2-1.8 Meters

In Stock

9.5x3.2
1.8 Meters

£

32.99 Ex VAT

9.5X3.2

Brass Brushed 9.5X3.2-2.5 Meters

In Stock

9.5x3.2
2.5 Meters

£

54.99 Ex VAT

9.5X3.2
Description
Additional information
Description
VROMA Brushed Brass Profiles will provide a provide a break in the tiles to give you the wow factor desired, the straight edge gives a contemporary, sleek look in bathrooms and kitchens. Durable and long-lasting, Rust proof.
These would be great for flooring or walls to bring out the wow factor in your design.
These Profiles are available in various lengths
These can be used as a listello for between tiling on the wall and floors or a inlay in furniture.
Solid Brass inlays are on trend and cannot compare to the finish that these bring to your project.
No other metals can replicate the timeless finish that these solid brass inlays bring out.
These are a Brushed Solid Brass they will have gone through a Brushing/ finishing process.
They have not been varnished or sealed
Brass is a Natural material which oxidises and tarnishes over time.
Brass Polish will bring it back to its glowing finish.  
Please Note that not all of the finishes will match one to each other as they are brass and the finish varies.
Please contact us with any questions you may have regarding this.
We recommend ordering a free sample before purchasing.
Rust Proof
These Profiles are available in various lengths – Please take care choosing the correct size
Brushed Brass
9.5mm X 3.2mm- (1/8″x3/8″)
2.5 M Length
1.8 meter Lengths
1 Meter lengths
3.6 Meters available (please contact us for these)